About this concert
"Don't worry if you can't get a seat close to saxophonist Peter Valera. When he is busy blowing the blues, Valera is liable to leap off the stage and wade into the crowd, moving as fast as the music pouring out of his horn. But that's not surprising: This is not Muzak or easy-listening. This is get-up-and-move music, blues played in a white-hot fury, volume and energy cranked up all the way to 11. Backed by the soulful Jump Blues Band, Valera doesn't so much play the saxophone as let it sing, unleashing a range of emotions and experiences too rich and wonderful for mere words to convey. Experience it yourself when this remarkable musician -- who just released his first record Jump Blues heats things up at Lucille's Grill at B.B. King Blues Club."
Show More
Find a place to stay
Upcoming concerts from similar artists
Live Photos
View All Photos
What fans are saying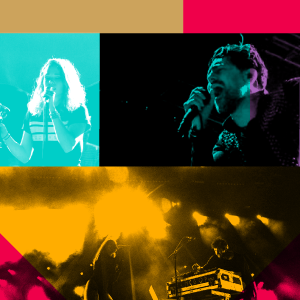 EJ and his band were incredible, as they alway are. This was a new venue for me, cool vibe! The key thou, you need to get there early! If not, it's really hard to see the performance, especially if they are sitting down. I wish they allowed us to go in the upper level (it was closed off). Steve
Wyandotte, MI
@
District 142 - Live Music & Event Venue
Bandsintown Merch
Live Collage Sweatshirt
$45.00
Circle Beanie
$20.00
Rainbow T-Shirt
$30.00
Discover more artists to follow & sync your music
Eric Johnson has been traveling on a prolific odyssey over the course of more than four decades. Along the way, his creations have encompassed repertoire that cross pollinate genres which include rock, blues, jazz, fusion, soul, folk, new-age, classical and even country. Inevitably E.J. says it best himself in sharing. "It really boils down to the music and the song at the end of the day," he explains. "If it doesn't have that it gets boring for me. The most important thing for me is to grow musically and make a more expansive and meaningful artistic statement with every new project."
For more information visit ericjohnson.com and ejfans.com.
Read More
Blues-rock
Electric Blues
Guitar Virtuoso
Piano Blues
Acoustic Blues
Classic Rock
Country
Electric Jazz
Piano
Acoustic
Instrumental