About this concert
Eric Johnson's stature as one of the premier guitar players in contemporary music is his artistic trump card, backed by a Grammy Award and five nominations, platinum album, Top 10 hits like "Cliffs Of Dover," praise from critics and the esteem of his peers. But the full hand of his talents marks him as well as a gifted songwriter, dynamic live performer, singer, pianist, song interpreter, and creator of a rich and diverse musical legacy.
Show More
Find a place to stay
Live Photos
View All Photos
What fans are saying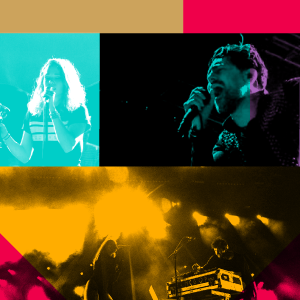 EJ and his band were incredible, as they alway are. This was a new venue for me, cool vibe! The key thou, you need to get there early! If not, it's really hard to see the performance, especially if they are sitting down. I wish they allowed us to go in the upper level (it was closed off). Steve
Wyandotte, MI
@
District 142 - Live Music & Event Venue
Bandsintown Merch
Live Collage Sweatshirt
$45.00
Circle Beanie
$20.00
Rainbow T-Shirt
$30.00
Discover more artists to follow & sync your music
Eric Johnson has been traveling on a prolific odyssey over the course of more than four decades. Along the way, his creations have encompassed repertoire that cross pollinate genres which include rock, blues, jazz, fusion, soul, folk, new-age, classical and even country. Inevitably E.J. says it best himself in sharing. "It really boils down to the music and the song at the end of the day," he explains. "If it doesn't have that it gets boring for me. The most important thing for me is to grow musically and make a more expansive and meaningful artistic statement with every new project."
For more information visit ericjohnson.com and ejfans.com.
Read More
Blues-rock
Electric Blues
Guitar Virtuoso
Piano Blues
Acoustic Blues
Classic Rock
Country
Electric Jazz
Piano
Acoustic
Instrumental