Find a place to stay
Upcoming concerts from similar artists
Live Photos
View All Photos
What fans are saying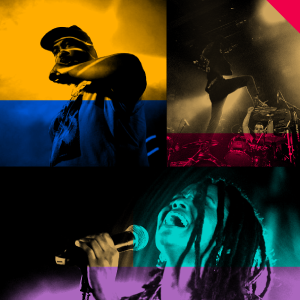 Customer service was amazing in accommodating me for hard of hearing device- had both options of headphones (NO ONE EVER HAS BEFORE) not a bad seat in the place. do wish there were fans to help with the humidity. ushers were great at making sure people stayed in their seats. love free parking - wish was a little more organized for the entrance line would totally make 2-hour trip from north shore again!!
Hyannis, MA
@
Cape Cod Melody Tent
Bandsintown Merch
Live Collage Sweatshirt
$45.00
Circle Beanie
$20.00
Rainbow T-Shirt
$30.00
Discover more artists to follow & sync your music
About the venue
Islington Assembly Hall
Follow Venue
Joseph Mulrey McIntyre, born 31 December 1972 in Needham, Massachusetts, was the youngest member of the 1980s supergroup New Kids on the Block.

Just before his 13th birthday, McIntyre joined New Kids On The Block, replacing Jamie Kelly. Since the other four members of the group were already long-time school friends, he initially found it difficult to blend into the group. However, New Kids on the Block became one of the most successful boy bands to date, eventually disbanding in 1994.

Following the group's split, McIntyre busied himself with songwriting and sought a record deal. He also appeared in the movie The Fantasticks alongside veteran actor Joel Grey.

Disenchanted at his inability to find a recording contract, McIntyre used his own money to record a solo single, "Stay the Same", and sold it on his website. He also took the single to local Boston DJs, helping it eventually to receive national airplay. The combination of airplay and website sales for "Stay the Same" led to McIntyre signing a recording contract in 1999 with Sony Music USA, which, under the Columbia label, had previously been home to New Kids on the Block. An album was released on the Sony Works label, accompanied by a re-released "Stay the Same" album; this featured the extra track "I Love You Came Too Late", which became his second solo hit.

Also in 1999, McIntyre recorded a track for the film Southie, which starred former band mate Donnie Wahlberg. The song was titled "Remember Me".

In 2001, McIntyre returned with his second solo album, Meet Joe Mac. This album produced the hit single "Rain". In the fall of 2001, he played Jon in the Off-Broadway play Tick, Tick... BOOM! by Jonathan Larson. In 2002, after he appeared for a season on the popular television show Boston Public. The following year, he released a live acoustic album, One Too Many with Emanuel Kiriakou. In 2004, he released his fourth solo album, 8:09, which was largely influenced by his future wife. McIntyre and his wife Barrett married on August 9, 2003, exactly a year after they had met.

In 2004, he made another movie, Tony n' Tina's Wedding, which co-starred Mila Kunis. In 2005, he appeared in the Broadway musical Wicked and competed on the reality television show Dancing with the Stars.

He appeared as Fonzie in Happy Days, a musical based on the hit TV show, from February 15 to March 12 2006 at the Falcon Theater in Los Angeles, CA. He will be reprising the role at a second run at the same location from June 23 to August 13 2006.

He has currently wrapped the movie 'On Broadway', filming in his hometown of Boston.
Read More