Find a place to stay
Upcoming concerts from similar artists
Live Photos
View All Photos
What fans are saying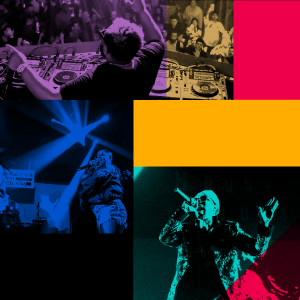 Love them, this is my 2nd time seeing them and it was amazing. The room was small and I was about 40 ft from them. They are always so fun and loving. ❤️
Atlantic City, NJ
@
Hard Rock Hotel & Casino Atlantic City
Bandsintown Merch
Live Collage Sweatshirt
$45.0 USD
Rainbow T-Shirt
$30.0 USD
Circle Beanie
$20.0 USD
Discover more artists to follow & sync your music
About the venue
The UC Theatre
Follow Venue
Steel Pulse was formed in 1975 in Birmingham, England, specifically the inner city area of Handsworth. The founding members were schoolmates David Hinds (the primary songwriter as well as the lead singer and guitarist), Basil Gabbidon (guitar), and Ronnie "Stepper" McQueen (bass). All of them came from working class West Indian immigrant families, and none had much musical experience. They took some time to improve their technical proficiency, often on Roots inspired material by the Wailers, Burning Spear and several other prominent Jamaican artists. McQueen suggested the group name, after a racehorse, and they soon fleshed out the lineup with drummer Steve "Grizzly" Nisbett, keyboardist/vocalist Selwyn "Bumbo" Brown, percussionist/vocalist Alphonso "Fonso" Martin, and vocalist Michael Riley.

Steel Pulse initially had difficulty finding live gigs, as club owners were reluctant to give them a platform for their "subversive" Rastafarian politics. Luckily, the punk movement was opening up new avenues for music all over Britain, and also finding a spiritual kinship with protest reggae. Thus, the group wound up as an opening act for punk and new wave bands like the Clash, the Stranglers, Generation X, the Police, and XTC, and built a broad-based audience in the process. In keeping with the spirit of the times, Steel Pulse developed a theatrical stage show that leavened their social commentary with satirical humor; many of the members dressed in costumes that mocked traditional British archetypes (Riley was a vicar, McQueen a bowler-wearing aristocrat, Martin a coach footman, etc.). The band issued two singles -- "Kibudu, Mansetta and Abuku" and "Nyah Love" -- on small independent labels, when they then came to the attention of Island Records after opening for Burning Spear.

Steel Pulse's first single for Island was the classic "Ku Klux Klan," which happened to lend itself well to the band's highly visual, costume-heavy concerts. It appeared on their 1978 debut album, Handsworth Revolution, which was soon hailed as a classic of British reggae by many fans and critics, thanks to songs like the title track, "Macka Splaff," "Prodigal Son," and "Soldiers." Riley departed before the follow-up, 1979's Tribute to the Martyrs, which featured other key early singles in "Sound System" and "Babylon Makes the Rules," and solidified the band's reputation for uncompromising political ferocity. That reputation went out the window on 1980's Caught You, a more pop-oriented set devoted to dance tracks and lovers rock. By that point, Steel Pulse was keen on trying to crack the American market, and went on tour over Island's objections. Caught You was issued in the States as Reggae Fever, but failed to break the group, and they soon parted ways with Island.

Steel Pulse moved on to Elektra/Asylum, which released an LP version of their headlining set at the 1981 Reggae Sunsplash Festival. Their studio debut was 1982's True Democracy, a generally acclaimed set that balanced bright, accessible production with a return to social consciousness. It became their first charting LP in America, making both the pop and R&B listings. The slicker follow-up, Earth Crisis, was released in 1984 and featured producer Jimmy "Senyah" Haynes subbing on guitar and bass for founding members Gabbidon and McQueen, both of whom left the group by the end of the recording sessions. They were replaced by guitarist Carlton Bryan and bassist Alvin Ewen for 1986's Babylon the Bandit, another Haynes-produced effort that ranked as the group's most polished, synth-centered record to date. It featured the powerful "Not King James Version" and won a Grammy for Best Reggae Album.

In 1988, Steel Pulse released State of Emergency, their most explicitly crossover-oriented album yet. They also contributed the track "Can't Stand It" to the soundtrack of Spike Lee's classic Do the Right Thing. In 1991, they released another heavily commercial album, the Grammy-nominated Victims, which featured the single "Taxi Driver." Backing up the song's views, Steel Pulse filed a class-action lawsuit against the New York City Taxi and Limousine Commission, charging that drivers discriminated against blacks and particularly Rastafarians. Founding member Fonso Martin left that year, reducing Steel Pulse to a core trio of Hinds, Nisbett, and Brown. Their backing band still featured Ewen and was elsewhere anchored by guitarist Clifford "Moonie" Pusey, keyboardist Sidney Mills, trumpeter Kevin Batchelor, Saxophonist Jerry Johnson and Trombonist Clark Gayton.

The 1992 live album Rastafari Centennial marked the beginning of a return to the group's musical roots, and earned another Grammy nomination. The following year, they performed at Bill Clinton's inaugural celebration, the first reggae band to appear at such an event. 1994's studio album Vex completed Steel Pulse's re-embrace of classic roots reggae, though it also nodded to contemporary dancehall with several guest toasters and a digital-flavored production. 1997's Rage and Fury continued in a similar vein, and was nominated for a Grammy. In 1999, the group released another collection of live performances, Living Legacy.

Fast forward a long seven years since their previous album, Rage and Fury, Steel Pulse would return yet again, this time with African Holocaust, and yet again have their ranks dwindled. Core members David Hinds (vocals, rhythm guitar) and Selwyn Brown (keyboards, backing vocals) are the only ones to remain from the band's original line-up, but they more than hold their own and they're joined by a deep roster of supporting musicians, a list too long to list. As always, the music is what's most important, and on that count, this Steel Pulse lineup indeed makes the mark. Granted, it did take them seven years to get the album out, but still it won a Grammy Awards Nomination for Best Reggae Album of the year. There's really not too much else to say about African Holocaust. Longtime fans will know what to expect. Newcomers should know a few things: above all, Steel Pulse are known for performing well-written, Afrocentric songs that are rebellious without being negative or inflammatory, and though the band membership has changed over the years, the type of songs hasn't, nor has the steady move away from dancehall that was apparent on the band's previous album. the message and music remain true to the band's principles and vision.

Steel Pulse is one of Britain's greatest reggae bands, in terms of creative and commercial success. Steel Pulse started out playing authentic roots reggae with touches of jazz and Latin music, and earned a substantial audience worldwide. Their 1978 debut, Handsworth Revolution, is still regarded by many critics as a landmark and a high point of British reggae. By the late '80s, Steel Pulse had won a Grammy and were working full-fledged crossover territory. They subsequently returned to a tough-minded, rootsy sound and have added touches of dancehall and hip-hop along the way.
Read More