Michael Shynes
Michael Shynes, Chris Kroeze & Natalie Murphy at Chankaska Winery
About this concert
Famous at places like the Bluebird Cafe and the Listening Room, songwriter rounds create an intimate and unique experience that allow songwriters to trade songs, share stories, and interact with each other on stage in a way that makes every show one of a kind. Join multi platinum recording artist Michael Shynes, Season 15 Runner Up on 'The Voice' Chris Kroeze, and a Grand Ole Opry mainstay Natalie Murphy (who has performed with country legends Whisperin' Bill Anderson, Jon Pardi, Terri Clark and Maggie Rose) for a night of songs, laughs, and moments that you won't soon forget. One night only.
Show More
Find a place to stay
What fans are saying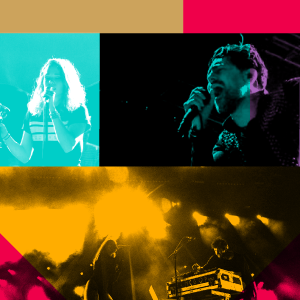 Was a wonderfull performance we saw at 318. Hard to describe how good it was with words!!!
Excelsior, MN
@
318 Cafe
Bandsintown Merch
Rainbow T-Shirt
$30.00
Circle Beanie
$20.00
Live Collage Sweatshirt
$45.00
Discover more artists to follow & sync your music
"Stylistically, he is difficult to pigeonhole because his sound amalgamates many different flavors, blending R&B, pop and blues into awesomely immediate melodies, evocative lyrics and contagious rhythms. Michael Shynes really has it going on."

-The Huffington Post

"His fully formed musical and vocal talent establishes Shynes as a performing and songwriting force to reckon with now and likely in years to come."

-Gashouse Radio

"Michael Shynes flies with inspired musical creativity and reaches the sort of heights we aren't accustomed to hearing performers match so early in their careers. Shynes' dedication has paid off and he's well on his way to embodying his every musical ambition."

-No Depression

The fact that Michael Shynes is a Midwest born singer songwriter with a Platinum Record in Poland, in many ways, sums up the unlikelihood of his career perfectly. Being a self taught musician from a small town, he seemed to build a career out of nothing more than pure hustle and soulful songwriting. And he was also a son who had lost his father, quit his day job, and chased an unlikely dream. And even though the music itself may be difficult to define (often oscillating from Folk to Pop to R&B to Country and then back again), the intent behind it is the unifying ingredient. The unmistakeable truth that it never strives to be anything less than genuine and authentic.

After losing his Father to an auto immune disease when Shynes was 25, he decided to honor his Dad's legacy by chasing the ambitions he had been putting off. At that time he was working at a residential treatment center for teens, and playing the occasional show on the weekend. "It was important work, and shaped who I am today in a lot of ways. But the stark reality of realizing how quickly life can change, made me realize how I wanted to spend my time here."

This was also at a time when he was falling in love, adopting a daughter, and trying to build a home. "I think it benefited me in a lot of ways as there were no excuses. I had mouths to feed. What crippled me when music was a journey strictly for myself, was the idea the there had to be some deep meaning in everything. Once it was simply about providing for my family, that's when I was able to see everything through the lens of simply building our lives together."

Shynes would often get noticed as a strong local candidate to open up for National acts as they came through town, and even ended up on a tour with Platinum Recording Artist Howie Day. "That was transformative as I was playing for theaters full of people who had no obligation to buy into what I was selling on stage. But I realized I could hold their attention with just the stories and the songs. That was a landmark experience."

Now Shynes has worked to become one of the most sought after performers in the Midwest. Recently selling out his first theater shows, and building a fully immersive live performance concept that includes up to a nine piece band paired with a video and light show. Blending shades of multiple genres over an acoustic and full band landscape, his songs are ripe with lyrical depth rarely paired with such mainstream appeal. The thing that seems to separate Shynes is unquestionably his vocal stylings. With a range and falsetto that is nothing short of captivating, his acoustic finger picking style acts as the perfect bed of warmth on which his soulful lyrics can rest.
Read More
Country
Pop
Alternative
R&b
Acoustic