Etana
Etana Live in Birmingham
Apr 29, 2023
7:00 PM GMT+1
About this concert
Etana live show
Find a place to stay
Live Photos
View All Photos
What fans are saying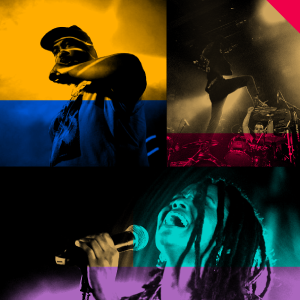 It was non stop great music, great energy! Danced all night!
Amstelveen, Netherlands
@
P60
Bandsintown Merch
Live Collage Sweatshirt
$45.0 USD
Rainbow T-Shirt
$30.0 USD
Circle Beanie
$20.0 USD
Discover more artists to follow & sync your music
About the venue
Legacy Centre of Excellence
Follow Venue
2 x GRAMMY NOMINATED REGGAE ARTISTE "ETANA"

Etana's name means "The Strong One" in Swahili, and it's a title she more than lives up to with her music and presence. Since debuting in 2006 with the thought-provoking single "Wrong Address," the Jamaican-born singer has established herself as one of the most powerful and distinctive voices in reggae, blazing a new trail in a genre that has long been male-dominated.

Etana's story begins in August Town, a treacherous but culturally rich garrison community in eastern Kingston that has produced such musical talents as Sizzla and Israel Vibration. Growing up, Etana's home was filled with music, but it was country and western that she recalls leaving the biggest impression. "Every Sunday was country music day," saysEtana. "A lot of people in Jamaica play gospel music on a Sunday, or old rub-a-dub. In my house it was country, like Dolly Parton. Tammy Wynette was my favorite of all the artists my mom used to play." Etana discovered her talent at the age of 6 while singing at home in the backyard for her aunt. Her charming voice beaconed an huge audience of neighbors who gathered to here "little Shauna" sing. Etana's backyard singing led to microphones of local sound systems playing in the neighborhood and thats where he love of music began.

Etana's family relocated to South Florida when she was nine where she started middle and sang on the school choir, she was chosen to sing the "Star Spangle banner" at school functions but never thought much of having a career in music at that time. Etana began her music career, almost by accident, while studying nursing at a local community college. "I had no interest in being an artist," Etana declares. "I was just bored and a friend of mine told me that there was a request for a black female to join a girl group in Miami. He brought me to the audition, and that was it."

It wasn't long before the proud and independent-minded singer realized that being in a prefabricated group wasn't for her. Objecting to the group's presentation during a music video shoot involving skimpy clothes and invasive camera angles, she quit on the spot. It was at this time that she decided to return home to Jamaica with plans of opening an Internet cafe. However, music would find her there as well, when she was recommended by a friend to fill in as a backup singer for reggae star Richie Spice.

"Being on the road with Richie Spice, I was very comfortable being myself, wearing what I wanted to wear," Etana recalls of her time touring with the "Earth A Run Red" singer. "Nobody had a problem with my afro." The gig turned into an unexpected opportunity when Etana was asked to warm up the crowd at a show where Spice was running late. "It was nothing rehearsed, just covers," statesEtana. "But people started to ask: 'Who was the girl?' Management for Richie Spice kept asking me to do a song, and 'Wrong Address' was the first song that I wrote."

Inspired by a true story experienced by her own aunt, "Wrong Address" detailed job discrimination as faced by residents of poor communities such as August Town. The song resonated deeply in Jamaica, establishingEtana as a powerful new voice with a distinct point of view rooted in the realities of working-class life.

VP Records, recognizedEtana's talents. In 2008, the label released her debut LP, The Strong One. The album, which combined Etana's reggae sound with aspects of R&B and world music, was embraced by fans as well as the music industry, landing the singer a nomination in the "best reggae" category at the MOBO Awards in England.

After several years touring around the world, Etana returned in 2011 with her second album Free Expressions. The set included the hit "People Talk," which detailed Etana's own experiences facing skepticism as a woman in the music industry, as well as favorites like "Free," an emotional tear-jerker written from Etana's personal experience of the violent, horrific nature of her community, having to endure days of no sleep unable to go home because of a turf war and fears of being killed in the cross fire. "August Town" a track written in hopes of reuniting her community and "Heart Broken." The latter song topped Natty B ' s chart in the UK for three consecutive weeks. 2011 also sawEtana return to her country roots with a cover of Patsy Cline's "Crazy" on the VP Records compilation Reggae Gone Country. Her rendition of Cline's country classic was praised as one of the standout tracks on an LP that featured such reggae luminaries as Beres Hammond and Luciano.

In 2013, Etana partnered with producer Shane Brown for her third LP, A Better Tomorrow, recorded at Kingston's legendary Tuff Gong Studios. The album broughtEtana back to reggae's foundation via vintage sounds and one-drop rhythms, earning praise from the Associated Press for its "mature and confident sound," "top-notch lyrical content" and "unique vocals." The same year, Etana held her own at the IRAWMA (International Reggae and World Music Awards) in Coral Springs, Florida. She hosted the annual ceremony and took home the award for Best Female Vocalist. Marcia Griffiths, Queen Ifrica, Allison Hinds, Patrice Roberts and Nkulee Dube were also nominated in this category.

Etana continues her forward movement becoming the first female to achieve a Reggae Billboard #1 in seventeen years with I Rise, album produced by Jamaican luminary Clive Hunt (Peter Tosh, Rolling Stones, The Wailers, Chaka Khan, Grace Jones, Jimmy Cliff). The album reflects the singer's ongoing maturity while maintaining the R&B-inflected take on reggae that she's come to be known for, showcasing the diversity of a true musical Renaissance woman. "Trigger," which tells the story of an educated but underemployed young man driven to desperate measures in order to take care of his cancer-stricken mother, is the album's lead single and a follow up of sorts to "Wrong Address." On the complete opposite spectrum is the album's second single "Richest Girl," a reggae love ballad with sweeping strings and jazzy horns over a classic one-drop riddim. "I RISE" is classified as Etana's best album to date by many and listed as the number one album of 2014 and also in the top five of thirty albums that were released in said year. International Women's Day March 8, 2018, Etana released her 1st Independent Studio album "Reggae Forever" which went on to earn her more accolades in the Reggae community. Etana became the 1st female reggae artiste to receive back to back #1 albums on the Billboard Reggae album charts. Reggae Forever was recognized by the Recording Academy being nominated for Best Reggae Album for 2019, making her the 1st female in 21 years to be nominated in the reggae category.

Inspiring others is nothing new for Etana. From the outset of her career with "Wrong Address"—a track which led many to re-evaluate how they look at others from different socio-economic backgrounds—she has been instigating change. Four albums into her career, Etana has become a role model in Jamaica with her message and action. Etana has used her success in music to create a charity organization in Jamaica "Strong One Foundation" where she helps teenage mother's and girls who's been abused to receive counseling, regain strength and financial support to continue their education.
Read More