About this concert
Tickets TBA Over the last number of years Dreamers' Circus have emerged as a driving force in new Nordic music. Contemporary and endlessly innovative in their approach, they draw inspiration from the deep traditions of folk music in the region and reshape them into something bright, shiny and new. Dreamers' Circus are: Nikolaj Busk (DK) on piano and accordion, Ale Carr (SWE) on Nordic cittern and Rune Tonsgaard Sørensen (DK), who also is a member of the Danish String Quartet, on violin. Inventiveness and heartfelt music underline their approach to performances and their concerts feature music from Denmark and other Nordic countries even stretching to the far reaches of the windswept Faroe Islands. The ensemble has won numerous prestigious Danish Music Awards and toured throughout Europe and beyond, with performances in Japan and the Sydney Opera House in Australia. Recent tours in the US have opened ears, eyes, minds, and hearts. The trio collaborates regularly with the Danish String Quartet and the Copenhagen Philharmonic. The band were recognised in 2021 as a 'Special Ensemble' by the Danish Arts Foundation - the first folk and roots musicians to be honoured in this way. Dreamers' Circus views their traditional roots as a point of departure and know tradition should never be a straitjacket. This adventurous attitude, coupled with their outstanding musicianship, has brought the band to the forefront of the Nordic folk and world music scene. www.dreamerscircus.com
Show More
Find a place to stay
Live Photos
View All Photos
What fans are saying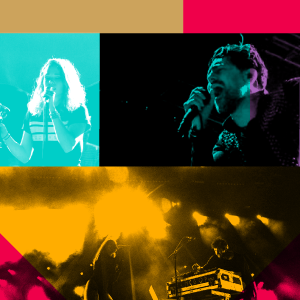 Dreamers kan i deres egen musik spænde bredt og tog da også udfordringen med at skulle inprovisere under andres i god stil.
Roskilde, Denmark
@
Gildesgård
Bandsintown Merch
Live Collage Sweatshirt
$45.00
Rainbow T-Shirt
$30.00
Circle Beanie
$20.00
Discover more artists to follow & sync your music
The ambitiously inventive Nordic trio, Dreamers' Circus, are one of the most talked about acts in the acoustic realm right now. They mine their solid backgrounds in traditional and roots music to present a genre-bending amalgam of folk sensitivity, jazz-tinged improvisation and classical complexity distilled through an openness to popular music influences. Dreamers' Circus display virtuosic and incendiary musical ability across a range of instruments that includes fiddle, accordion, piano and cittern and with a resolutely contemporary approach they have taken the new Nordic music scene by storm.

"They're world class. Now the world needs to hear them" – Sing Out

"Charisma, talent and a powerful performance onstage" – Songlines

"Dreamers' Circus does for Nordic folk music what Astor Piazolla and the tango nuevo did for Argentinian folk music" – Politiken Denmark.
Read More
Contribute
Help Dreamers' Circus keep making the music you love.