About this concert
The Hooters
Find a place to stay
Upcoming concerts from similar artists
Live Photos
View All Photos
What fans are saying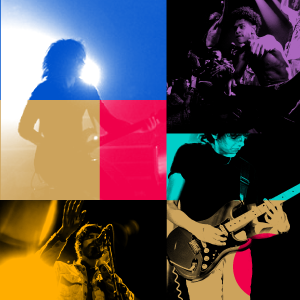 I've seen these guys at least a dozen times over the years and they're ALWAYS great! Such a fun band. Their energy spills out into the crowd and everyone just looks so happy! The songs they played from the new album were much better live in my opinion. Also, I REALLY like the faster version of Time after time they've been doing lately.
Glenside, PA
@
Keswick Theatre
Bandsintown Merch
Live Collage Sweatshirt
$45.00
Circle Beanie
$20.00
Rainbow T-Shirt
$30.00
Discover more artists to follow & sync your music
About the venue
Keswick Theatre
Follow Venue
In 1980, The Hooters burst onto the Philadelphia music scene as a new and different
kind of rock band, formed by co-leaders and writers Rob Hyman (lead vocals,
keyboards, accordion) and Eric Bazilian (lead vocals, guitars, mandolin, mandola,
harmonica, saxophone). The other members include original drummer David
Uosikkinen, John Lilley (guitars, mandolin), Fran Smith, Jr. (bass, vocals), and Tommy
Williams (guitars, mandolin, vocals).

Their unique blend of ska, reggae, and rock was a fresh sound in the clubs and on
Philly radio, and in 1983, The Hooters released their first independent album Amore to
great local success. The album also featured the "hooter," or melodica, as part of their
special sound and namesake.

The Hooters' strong and powerful presence, as performers and as songwriters, led to
their first major record deal in 1984 with Columbia Records. Their 1985 debut release
Nervous Night quickly achieved Gold and Platinum status in the USA, Australia, and
Canada with the hits "And We Danced," "All You Zombies," "Day By Day," and "Where
Do The Children Go."

Rolling Stone magazine named The Hooters the "Best New Band of the Year" in 1985,
and in July of that year, the group was chosen to open the historic Live-Aid concert in
Philadelphia. By 1986, they had been touring the US and Canada almost non-stop,
and that summer, The Hooters were sharing the stage at the Amnesty International
Concert at Giants Stadium with acts such as U2, The Police, Miles Davis, Lou Reed,
and Peter Gabriel.

In 1987, the group released their second album, One Way Home, again achieving Gold
and Platinum status in the US as well as new markets in Japan and Europe. With
songs like "Johnny B," "Satellite," and "Karla With A K," David Fricke, from Rolling
Stone, wrote, "The Hooters have made airwave magic with unconventional
ingredients."

In 1989, The Hooters released their third major label album on Columbia Records, Zig
Zag. It introduced a more acoustic, unplugged Hooters sound, while still maintaining
those infectious pop hooks for which the band is so well known. With the legendary folk
trio Peter, Paul and Mary on backing vocals, their updated version of the classic "500
Miles" became a worldwide hit, which led to another double Platinum success for the
band.

It was also during this time that the group was asked by Roger Waters of Pink Floyd to
participate in his multimedia extravaganza "The Wall" in Berlin, 1990, to celebrate unity
in Germany after the Wall came down. The Hooters joined music legends such as Joni
Mitchell, Van Morrison, The Band, Sinead O'Connor, and Bryan Adams for an
unforgettable musical experience.

In 1993 Out Of Body was released on MCA Records featuring the hit "Private
Emotion," which was later covered by Ricky Martin on his smash debut. It was during
that summer that the band recorded their Live In Europe album (MCA 1995). Around
this time, Sony also released a long-awaited compilation album entitled Hooterization -
A Retrospective, a collection of their greatest hits, which earned the group its first Gold
album in Germany.

Rob and Eric have also contributed their musical and songwriting assistance to other
artists including Cyndi Lauper, Joan Osborne, The Band, Carole King, Mick Jagger,
Willie Nelson, The Chieftains, Jon Bon Jovi, Robbie Williams, The Scorpions, Dar
Williams, and Taj Mahal, among others.

In 2006, they recorded their first new studio album in 13 years, Time Stand Still,
featuring the hit "I'm Alive" and their unique acoustic arrangement of Don Henley's
"Boys Of Summer." The CD was officially released in September 2007 on MRI/Sony
Red in the US, and through Neo/Sony BMG Distribution in Europe.

In 2009, The Hooters released Both Sides Live, a double-album set featuring all the
band's greatest hits in both full-tilt electric and unique acoustic versions. And in 2010,
their EP 5x5 was released, featuring the single "Silver Lining" as well as versions of the
hits "Time After Time," and "One Of Us." Those two songs had previously earned Rob
and Eric Grammy nominations for "Song Of The Year," which they had written and
recorded for Cyndi Lauper and Joan Osborne, respectively.

2017 brought Give The Music Back, a new double-live album recorded at the
legendary Keswick Theater, near their home-town base of Philadelphia. This
compilation CD and subsequent international tours continue to reflect their strong
collaborations in the studio, their passionate energy onstage, and their long-time
friendship on the road and off. And in October 2019, the group was inducted into
Philly's "Walk Of Fame" with their own sidewalk plaque on the Avenue of the Arts.
The Hooters' live shows endure as a joyful musical celebration for both the band and
their loyal, enthusiastic fans. With the unforeseen arrival of the Covid-19 pandemic,
they now plan to celebrate their 40th Anniversary in 2021 – come get Hooterized!
Read More