Find a place to stay
What fans are saying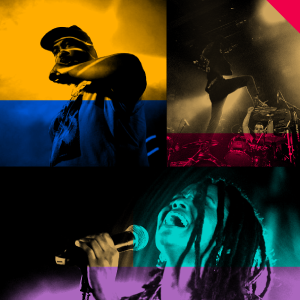 Amazing musical craft, as anticipated. Great setlist, outstanding venue. So great to see Alison, Garry, and Hannah all play together
Tucson, AZ
@
The Sea of Glass — Center for the Arts
Bandsintown Merch
Live Collage Sweatshirt
$45.00
Rainbow T-Shirt
$30.00
Circle Beanie
$20.00
Discover more artists to follow & sync your music
Alison Brown has achieved success in many areas: a Harvard graduate, record label co-founder and owner, mother, and, the role that most people know her in: banjo virtuoso. An internationally recognized musician with a wide-reaching and loyal fan base, Brown first came to national prominence when she was asked by Alison Krauss to join her band Union Station in 1989. Brown had already made a name for herself prior to that by performing extensively with fiddler Stuart Duncan, and on occasional pick-up sessions with artists such as Vince Gill, Byron Berline and John Hickman.

In the summer of 1978, she traveled the country with Duncan and his father, playing festivals and contests. A first place finish at the Canadian National Banjo Championship helped her land a one-night gig at the Grand Ole Opry. And around the time Brown graduated from high school, she and Duncan recorded a duo album for Ridge Runner Records entitled Pre-Sequel.

Brown's journey to a professional music career took a detour while she attended Harvard, studying history and literature, then UCLA, where she secured an MBA and went to work as an investment banker. After taking a hiatus to return to composing and recording music, Brown assembled the material for her solo debut, the GRAMMY nominated Simple Pleasures. A three-year stint with Alison Krauss and Union Station and a year serving as band leader for Michelle Shocked followed, as did bluegrass music's highest accolade for an instrumentalist: the International Bluegrass Music Association Banjo Player of the Year in 1991.

In 1995 Brown put her financial background to work, co-founding Compass Records with her husband Garry West. Celebrating its 20th anniversary in 2015, the Nashville-based Compass Records Group is an internationally recognized label group with a catalog of over 600 roots music releases across the Compass Records, Green Linnet, Mulligan Records and Xenophile catalogs. Compass Records Group is home to artists such as Colin Hay, Ron Sexsmith, Altan, Frank Solivan, AJ Croce, Martin Hayes, The Waifs, and many more, and has been called "one of the greatest independent labels" by Billboard Magazine. Since its inception Compass Records Group (the subject of both Harvard Business School and Darden Business School case studies) has pursued an ambitious path of growth and met every goal including the most important one: providing a thriving haven of creativity for artists and a reliable beacon of quality for music fans.

Brown tours internationally with the Alison Brown Quartet, was personally requested to play at the 2007 inauguration of Harvard' first female president, Drew Faust, and was the 2007 recipient of Irish America Magazine's "Stars of the South Award" for Compass Records' efforts towards the "cultivation and preservation of Irish music." Brown's discography includes four releases on Vanguard Records as well as seven on the Compass Records label, including The Song Of The Banjo (2015).
Read More
Jazz
Acoustic
Bluegrass
Folk
Newgrass
Country