About this concert
Join Carly Thomas and band at the re-opening of live events in London Ontario. Carly will be celebrating the upcoming release of her 3rd Studio Album, Behind The Ficus. Come for a great evening of entertainment and opportunities to support local music!
Show More
Find a place to stay
Upcoming concerts from similar artists
What fans are saying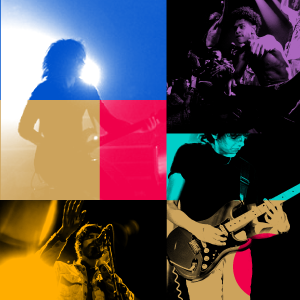 Amazing!!
Martinez, CA
@
Luigi's Deli and Market
Bandsintown Merch
Live Collage Sweatshirt
$45.00
Circle Beanie
$20.00
Rainbow T-Shirt
$30.00
Discover more artists to follow & sync your music
On her latest single "Stay With Me", Canadian singer-songwriter Carly Thomas navigates the twists and
turns of a seemingly infinite healing road, contemplating heartbreak, and searching for inspiration and
answers in equal doses. 

The track, which Thomas describes as "what vulnerability looks like in relationships", is a delicate,
minimalist Americana-inspired ballad in the vein of Phoebe Bridgers and is the first single from Thomas'
forthcoming album Behind The Ficus, due out in the Fall of 2021. As she confronts painful truths to move
her body and soul forward, heightened emotions linger at the surface as she finds her way. 

Writing "Stay With Me" was a cathartic way of unfolding some tucked away emotions," she explains.
"It's about fighting those internal walls we build up along the way. It felt like an honest introspection on
how I desperately wanted to be held after a hard night and trying to resist sabotaging a new love with
past pain. There's a huge vulnerability in truly showing who you are to someone over and over, and
there's a weight that comes with it that can be exhausting."

The music video for the single, which was shot in Vancouver, offers an unfiltered look at the singer-
songwriter, helping highlight the song's raw emotion. "I wanted the video to be a simple,
straightforward snapshot of who I am not only as an artist but as a human being. I wanted to show the
scars on my arm which dates back to my adolescence, to acknowledge that struggles with mental health
are real and common.  Music is what helped me overcome and move forward".

The award-winning artist has toured extensively across Canada, the U.S., and Europe, sharing the stage
with musical peers such as Jenn Grant, Matthew Barber, and Great Lake Swimmers.  Whether she is
playing to 30 people in a coffee house or thousands with her band on a festival stage, she has a way of
pulling people in and taking them on a unique musical journey. 

"Stay With Me" is a snapshot of an artist in bloom, pushing herself to be her best as she feels anything but.
Read More
Folk
Rock
Singer-songwriter
Folk Rock
Pop
Americana
Indie Alternative
Canadiana