Find a place to stay
Upcoming concerts from similar artists
Live Photos
View All Photos
What fans are saying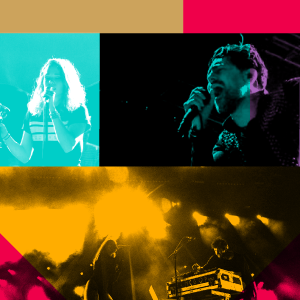 I haven't seen Big D since 2008 and I can happily say they were great and so where their support act Call Me Malcom. This was my first gig since having to shield in March 2020. The venue were really understanding as I am on crutches so sorted me a stool right next to the barrier. I will definitely be seeing Big D and Call Me Malcolm again.
Brighton, United Kingdom
@
The Hope & Ruin
Bandsintown Merch
Rainbow T-Shirt
$30.00
Live Collage Sweatshirt
$45.00
Circle Beanie
$20.00
Discover more artists to follow & sync your music
About the venue
Ventura Music Hall
Follow Venue
DO YOUR ART finds Big D and the Kids Table sounding as fresh and inspired as ever for their fifth album with SideOneDummy Records. Produced and engineered by Reel Big Fish's Matt Appleton, DO YOUR ART is a musical melting pot, highlighting the band's versatile talents and delivering a mixture of punk, ska and dub-reggae songs, as well as a few creative tracks that frontman David McWane cut-up and dubbed-out from his favorite '60s B-films. The 20-track album is truly a moveable feast. And what's moving are your feet!

When David McWane sets out to write a new Big D and the Kids Table album, he has one main goal in mind: to make the iconic kind of record that he loved as a teen. As a teenager, David and his friends would drive around aimlessly, listening to albums that would form the soundtrack to their youth. Timeless music that years (and even decades) down the line, is still a big piece of them. It's McWane's hope that DO YOUR ART will define similar moments for people now and become a cherished memory of these days and times.

It has been eight years since Big D and the Kids Table released original music (2013's double whammy of Stomp and Stroll). In that time, the members of Big D have kept themselves busy with projects The Doped Up Dollies (co-fronted by McWane's wife Brianne) and Boston panic-rock outfit CUIDADO. Toss a growing family with two young children into the mix, and that's one hefty schedule for McWane, who still makes that time to do his art!
Read More