Find a place to stay
Upcoming concerts from similar artists
What fans are saying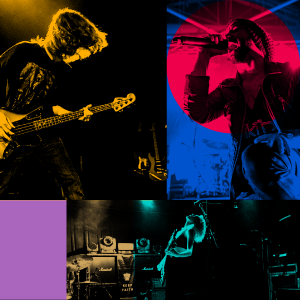 Amazing gig! Saw them in Bristol about 10 years ago and absolutely loved seeing them again last night. The mix of songs was perfect, currently waiting to get tickets for Jamie as a result of hearing a few songs from the musical. Also loved the Fat Bottom encore! Love love love ❤️
Bristol, United Kingdom
@
O2 Academy Bristol
Bandsintown Merch
Live Collage Sweatshirt
$45.00
Rainbow T-Shirt
$30.00
Circle Beanie
$20.00
Discover more artists to follow & sync your music
About the venue
Leadmill
Follow Venue
The Feeling is a five piece indie/pop band from Horsham, Sussex, and London in England, attempting to make easy-listening hip.

Following a limited release of their debut "Fill My Little World" in late 2005, the band entered the UK Top 10 with their first full release "Sewn" in March 2006. The single was one of the year's biggest radio hits, after being played first in the UK on the Dermot O'Leary Show, BBC Radio 2, along with their first live radio session.

Their debut album Twelve Stops and Home was released in the UK on June 5, 2006 and on February 27, 2007 in the US.

February 18th they released their second album, Join With Us.

Members:
* Dan Gillespie Sells (vocals & guitar)
* Richard Jones (bass & backing vocals)
* Kevin Jeremiah (guitar & backing vocals)
* Ciaran Jeremiah (keyboards & backing vocals)
* Paul Stewart (drums)

Albums
* Twelve Stops and Home (2006)
* Join With Us (2008)

Singles
* Fill My Little World (2005)
* Sewn (2006)
* Fill My Little World (2006)
* Never Be Lonely (2006)
* Love It When You Call (2006)
* Rose (2007)
* I Thought It Was Over (2008)
* Without You (2008)
* Turn It Up (2008)

Stylisticly, The Feeling have a debt of gratitude to the 70s, particularly bands such as 10cc, Supertramp, Pilot, The Buggles, Queen, Stackridge, and other "progressive pop" acts. They are not averse to wearing their heart on their sleeve at gigs, playing covers of tunes by their favourite artists (such as 'Video Killed The Radio Star' by Buggles).

The Feeling have also followed the 'progressive' tradition of the concept album, with Twelve Stops and Home being a concept album about lost and unrequited love. The album starts with a relationship having just broken up, then follows through with the various emotions of the protagonist from hopeless dreamer to turning to drink for comfort, and finally slumping home.
Read More