Find a place to stay
Live Photos
View All Photos
What fans are saying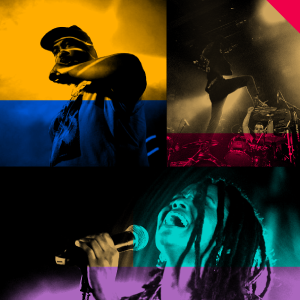 Amazing concert! The band was great. Mike is a great musician and a humble and genuine person. He stayed after the show to meet his fans and give hugs. Hope he comes back soon to Taos or Albuquerque. Great value on the tickets too. Thank you.
El Prado, NM
@
Taos Mesa Brewing
Bandsintown Merch
Live Collage Sweatshirt
$45.00
Rainbow T-Shirt
$30.00
Circle Beanie
$20.00
Discover more artists to follow & sync your music
Revolutionary music may seem hard to come by in these days and times. Long gone is the era of artists like Bob Marley, The Clash, Stevie Wonder and Patti Smith getting airplay and bringing their messages to the masses. But that doesn't mean that the revolution isn't still brewing in the hearts and minds of many people around the globe.

Meet Mike Love. One of reggae music's rising stars. Born and raised in Oahu, Hawaii to a musical family that spans generations, Mike Love brings a multitude of influences to the table, all tied together by the common goal of making the world a better place. Through the grassroots method of releasing his albums independently, on his own Love Not War Records label, and performing 250 plus shows a year, Love has built an ever growing following for his unique and inspiring music. He has toured with many artists in the circles of conscious, roots music, including Trevor Hall, Xavier Rudd, Nahko and many more. Over the past few years he performed to enthusiastic audiences at the California Roots Festival, Wakarusa, Wanderlust and the Montreal Jazz Fest, just to name a few. He has also enjoyed great success and exposure through the web on outlets like YouTube, with one of his videos just recently hitting 9 million views!

On his award winning debut album, The Change I'm Seeking, Love harkens the legends of roots reggae in both his lyrics and his sound, but never relies on any one genre to hold him down. Coming from a wealth of influences, Love fuses the simple rhythms of classic reggae with the complex changes of the classical and rock music he was first trained on to come up with a style wholly unique to him. On his follow up album, Love Will Find A Way, released September 1st, 2015, Love further refines his sound and message, with grand and striking arrangements and deep heartfelt emotions, he takes you on a journey which many describe as "life changing". He calls for immediate and drastic change in environmental impact on "Step Lightly", affirms his connection with fans on "I Love You, and shows a vulnerable and touching insight into his personal life on "Advaya's Song" and "No Regrets". Following up with his most eclectic blend of styles, "Love Overflowing" perfectly compliments the previous release, with a downplayed mood of depth and reflection in the music.

But it's his message, his passion, the wisdom behind his words that truly resonate with his fans. "It's always been about the healing," Mike Love explains, "I've never been into music that was shallow. I'm still learning about where I'm going and where I want to be. All the music is a learning tool for me too. I just make myself open to it and the messages come through. It's just as teaching and healing for me as it is for anyone."

His songs take you on a journey, one of healing and inspiration. One designed to help you on your path to knowledge, wisdom and understanding. On "Permanent Holiday" he takes you on a lyrical quest for freedom, both his and yours. He laments the ills of the world but also discusses solutions and ideas to change them. On "Earthlings" he sings about being vegan, about animal cruelty and about holding yourself accountable for your actions. These are songs with messages designed to affect change in a time when it is so desperately necessary.

Love and his band have already toured in the U.S., Canada, Central America, Europe, Australia, New Zealand and East Asia. Mike Love has shared the stage with artists like Michael Franti, Trevor Hall, Nahko & Medicine For The People, Xavier Rudd, Rebelution, John Butler Trio, Groundation, Steel Pulse, Dave Matthews and Jack Johnson. 2017 is shaping up to be a big year of even more growth for Love and his musical family with plenty of touring and work on a brand new record!

Revolutionary, Conscious, Music.
Read More
Reggae
Rock
Acoustic
Roots Reggae