Find a place to stay
Upcoming concerts from similar artists
What fans are saying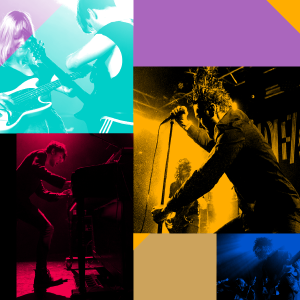 Spencer
September 12th 2014
Awesome.
Los Angeles, CA
@
Create
Bandsintown Merch
Live Collage Sweatshirt
$45.00
Circle Beanie
$20.00
Rainbow T-Shirt
$30.00
Discover more artists to follow & sync your music
There are several artists named Clockwork.

1) Clockwork is an alias of Ralf Uhrlandt.

2) A now defunct progressive metal band from Philadelphia.
They played a combination of symphonic prog and complex technical metal. For reference, think a mixture of Yes and Dream Theater. Their material featured lush keyboards that provided the backdrop for dual lead guitars, layered vocals and a tight rhythm section. Unfortunately, they disbanded after the release of their only full-length album entitled "Surface Tension" in 1999. Their only other release was an self-released EP entitled "Search", released in 1997.

3) A Hardcore/Rock band from Long Island formed in 2001. (www.myspace.com/clockworkli )

4) A classic rock cover band from Harlan, IA.

5) A Dutch progressive rock band. The band is founded April 2007 by Bas Welling (guitar), Remy Smeets (keyboard) and Ivo Cleven (drums). Ivo and Remy met at school. They started jamming and got connected to Bas. During a jam with the three of them there was some sort of magic and they decided to form a band. Just four rehearsals old they played seven Dream Theater songs during their first show (at their former school).
The band has finished recording their first demo track. It's an instrumental song named The Discovery.
Read More