Murder by Death
RESCHEDULED AND NEW VENUE Big Night Live - Boston, United States
Find a place to stay
Upcoming concerts from similar artists
Live Photos
View All Photos
What fans are saying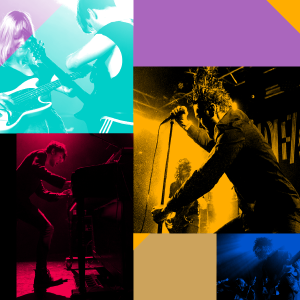 Really special to have them play the entirety of Who Will Be Left, and What Will Be Left of Them. The second set was great too!
Boston, MA
@
Paradise Rock Club
Bandsintown Merch
Live Collage Sweatshirt
$45.00
Circle Beanie
$20.00
Rainbow T-Shirt
$30.00
Discover more artists to follow & sync your music
About the venue
Big Night Live
Big Night Live is a premier luxury music hall unlike any other venue in Boston. An expert blend of Big Night's nightlife expertise with the world's leading live entertain...
read more
Follow Venue
Indiana's Murder by Death (formerly known as Little Joe Gould) layers the vocal sounds of an old saloon with the haunting strings of a Hungarian folk dance and the hard driving rhythms of pure rock 'n' roll, producing what Stuff magazine has called "lush, orchestrated songs," somehow simultaneously reminiscent of Johnny Cash and Radiohead. Added to that thick and intriguing sound are a series of dark and ironic lyrics, combining the mood and tone of Nick Cave and the Bad Seeds with the narrative force of The Decemberists or a short story by Nathaniel Hawthorne. Adam Turla fills out these sometimes frightening, sometimes beautiful lyrics by conjuring up a cast of character voices, allowing the songs to speak with the force of the characters themselves, and providing the listener with a sense of ensemble unique in rock music.

But this ensemble feel is not only the result of Turla's vocal playfulness, but of the cohesive playing of the band itself. Sarah Balliet channels her Kentucky bluegrass roots through the skilled hands of a concert cellist, playing point and counterpoint to the lyrics and guitars with magnificent grace and style. [bandmember from=2000]Matt Armstrong's bass guitar provides the rhythmic framework of the band, but also takes the lead with surprising frequency, guiding Murder by Death into driving highs and brooding lows. And Alex Schrodt's drumsticks almost dance across the skins, giving the band what the Chicago Reader called "a rhythm section Nick Cave or The Faint would die for." The result is a fascinating slice of American Gothic, replete with trail rides, whiskey shots and Old Scratch himself.

Murder By Death were discovered in 2000 by Thursday vocalist, Geoff Rickly, when the two bands played on the same bill at a gig in their hometown of Bloomington, Indiana. Rickly introduced the band, known at the time as Little Joe Gould, to his friend Alex Saavedra (owner of Eyeball Records), who signed the group immediately. Rickly performs discreet background vocals in the song Killbot 2000. The Little Joe Gould EP was issued in 2001, the group later deciding on changing the name to Murder By Death, which they felt better represented the "Americana noir and dramatic post-punk" of their sound.

Murder by Death's unique sound has developed over several years of touring and recording. Constantly evolving their sound, the style changes from their first release Like The Exorcist, But More Breakdancing to their sophomore release, Who Will Survive, and What Will Be Left of Them?. "Who Will Survive..." grew from a small, limited pressing album into a sleeper hit as they constantly toured the country, sharing the stage with bands as diverse as The Weakerthans, Rasputina, Lucero, Against Me!, and William Elliott Whitmore. "Who Will Survive..."'s rich narrative structure, which recounted the travails of a small western town besieged by the devil, not only garnered popular and critical attention, but inspired a number of artistic reactions and responses, including ballet and stage productions, paintings, and even a PhD thesis.

The band's third album, entitled "In Bocca al Lupo", forgoes the integrated narrative structure of "Who will Survive..., " presenting the listener with an album built on thematic connections. "In Bocca al Lupo," which translates roughly to "In the Mouth of the Wolf" (a phrase said before students take exams in Italian classrooms, and to which the students respond "Kill the Wolf"), examines themes of sin, transgression, punishment, and redemption, touching on different lives and different stories in each individual song. The resulting album resembles the 1979 murder mystery from which the band takes its name-a pastiche of bad deeds and good intentions, of last minute heroism and, in some cases, nearly impossible forgiveness.

Musically, "In Bocca al Lupo" is as diverse as the various stories that the album recounts. The songs themselves reflect the stories they tell-gritty rock and roll beats drive "Brother" and "Sometimes the Line Walks You," complex tango rhythms twine themselves through "One More Notch," and lonely western guitars accompany the simple elegance of "Shiola" and "Raw Deal." Each of the album's ballads and waltzes, chants and hard hitting rock songs, meld content and form, creating meaning in the music itself. Murder by Death's unique musical aesthetic ties these seemingly disparate tracks together. With the help of producer J. Robbins (Jets to Brazil, Jawbox, Against Me!) the lush melodies and harmonies so unique to the band transform these varied sounds into a coherent and cohesive album, an album whose overall sound and sensibility melds the darkest moments of Modest Mouse's "Good News for People Who Love Bad News" with the maudlin country roots of Western folk-rock. The band's thick, fretted, knotty sound provides a through line, tying together an album as musically diverse as the backcountry roads and basement rooms that inspired it.

"In Bocca al Lupo," on Tent Show Records, the band's own label, shows off Murder by Death's maturity, both as songwriters and musicians. The album is alternately rough and gentle, elegant and complex, intelligent and playful; it moves from one to the other without breaking stride, without interrupting the album as whole. Murder by Death is known for their talent as performers, for their live presence, the ambiance and energy present in their music. "In Bocca al Lupo" harnesses this energy and distills it, adding to it the maturity of a band constantly on the road.

Red Of Tooth And Claw

Murder By Death's fourth album, and first with Vagrant Records was released in March 2008, entitled Red Of Tooth And Claw. Produced by Trina Shoemaker at Dark Horse Studios in Tennessee, the record features former keyboardist Vincent Edwards on the song "Ball & Chain" and is also the first album to feature new drummer Dagan Thogerson, who replaced founding member Alex Schrodt. It continues with the band's trademark themes: "lust, betrayal, and classical archetypes of good and evil." In Turla's words, the record is an "Homer's Odyssey of revenge, only without the honorable character at the center." The vocals are again sung in the same low, baritone range as In Bocca Al Lupo causing many critics to speculate that Red Of Tooth And Claw breaks less new ground than previous efforts, although in general the album has been well received. As described by allmusic.com the album "carries over some of the Old West outlaw feel of its predecessor, but it's more aggressive and freewheeling here. [...] [The album] isn't a departure for Murder By Death, but their ability to keep their sound fresh and vibrant speaks well of their musical abilities." To celebrate the album's release, Murder By Death played two shows on the same night in their hometown of Bloomington.

Members
Adam Turla - vocals, guitars
Sarah Balliet - cello, keys
Dagan Thogerson - percussion
Matt Armstrong - bass

Previous members
Vincent Edwards - keys (left the band in 2004 to pursue an art degree)
Brandon Cooper - keys mid-2004
Alex Schrodt - percussion through mid-2007
Read More
Alternative
Americana
Rock
Indie
Folk