About this concert
Support: Buddy Wakefield
Find a place to stay
Upcoming concerts from similar artists
Live Photos
View All Photos
What fans are saying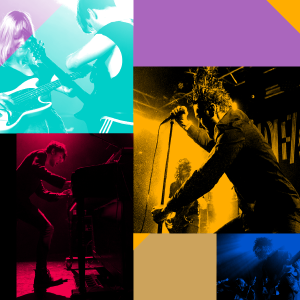 Shae Crowder
February 26th 2020
Had SUCH an amazing time and my heart was full the moment Andrea stepped on stage. So much truth in their words! Thank you for such an amazing tour!
Chicago, IL
@
City Winery
Bandsintown Merch
Rainbow T-Shirt
$30.00
Circle Beanie
$20.00
Live Collage Sweatshirt
$45.00
Discover more artists to follow & sync your music
Andrea Gibson is one of the most stirring and influential spoken word artists of our time. Best known for their live performances, in which they regularly sell out large capacity rock clubs and concert halls, Gibson has changed the landscape of what it means to attend a "poetry show" altogether. Gibson's poems center around LGBTQ issues, gender, feminism, and mental health, as well as gun reform and the dismantling of oppressive social systems. Their live shows, in which they are often accompanied by musicians, have become these loving and supportive ecosystems for audiences to feel seen, heard, and held through Gibson's art.

Gibson is the author of six books, including Lord of the Butterflies, which won the Independent Publisher's Award in 2019 as well as a Goodreads Choice Awards Finalist. Take Me With You, an illustrated collection of Gibson's most memorable quotes, was also a Goodreads Finalist. In 2019, they co-authored their first-ever non-fiction book, How Poetry Can Change Your Heart.

In addition to their publishing accolades, Andrea has released seven full-length albums, combining their socially active spoken word with musical collaborations. They are the winner of the first-ever Women's World Poetry Slam Championship (2008) and frequent World Poetry Slam Finalist.
Read More