About this concert
Sony presents Blue Note Jazz Festival - Sweet Honey In The Rock® is a performance ensemble rooted in African American history and culture. The ensemble educates, entertains and empowers its audience and community through the dynamic vehicles of a cappella singing and American Sign Language interpretation for the Deaf and hard of hearing. Sweet Honey's audience and community comes from diverse backgrounds and cultures throughout the United States and around the world, and includes people of all ages, economic/education/social backgrounds, political persuasions, religious affiliations, sexual preferences and differing abilities.
Show More
Find a place to stay
Upcoming concerts from similar artists
Live Photos
View All Photos
What fans are saying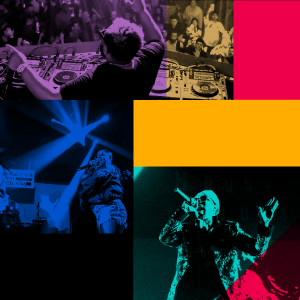 I love Sweet Honey in the Rock and was glad to be at the show. So happy that they are celebrating 50 years and staying strong! Love their acapella singing and deal with the issues and concerns of today! Truly enjoyed myself!
Saint Marys City, MD
@
Nancy R. and Norton T. Dodge Performing Arts Center
Bandsintown Merch
Rainbow T-Shirt
$30.00
Circle Beanie
$20.00
Live Collage Sweatshirt
$45.00
Discover more artists to follow & sync your music
Sweet Honey In The Rock is an internationally renowned a cappella ensemble based in Washington, DC since 1973. Her innovative and socially conscious music spans the sound and spirit of the African Diaspora and continues to delight audiences world wide. Since their first concert on November 17th, 1973 at Howard University there have been 24 amazing women who have performed on the Sweet Honey stage.

"We are very forward thinking as an organization, constantly reevaluating how we can express concepts to uplift and create change through our music and concerts," says Maillard. "#LoveInEvolution has a more contemporary sound and feel because as people in the group grow and change, we want to hear different things, feel different things, and bring fresh elements to our presentation."
Read More