Find a place to stay
Upcoming concerts from similar artists
Live Photos
View All Photos
What fans are saying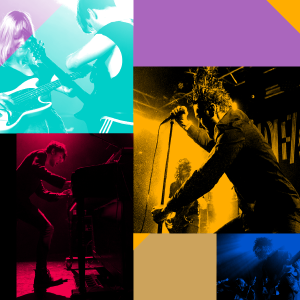 Claudia
November 15th 2023
Absolutely amazing show! Molly and her band are some of the best musicians I've been lucky enough to see a few times now, and it's been a privilege seeing Molly grow as a musician and become more confident. As for the venue, I thought it had a lot of character. I liked the fireplace next to the merch tables - there we tables where you could sit with your drinks as a reprieve from the concert. It's standing room only but if you needed accommodations they would provide you with a seat in the back or to the side. I would definitely go back to Brooklyn Made for another concert!
Brooklyn, NY
@
Brooklyn Made
Bandsintown Merch
Live Collage Sweatshirt
$45.0 USD
Rainbow T-Shirt
$30.0 USD
Circle Beanie
$20.0 USD
Discover more artists to follow & sync your music
A virtuosic, award-winning guitarist with a gift for insightful songwriting, Molly Tuttle evolves her signature sound with boundary-breaking songs on her compelling debut album, WHEN YOU'RE READY. Already crowned "Instrumentalist of the Year" at the 2018 Americana Music Awards on the strength of her EP, Tuttle has broken boundaries and garnered the respect of her peers, winning fans for her incredible flatpicking guitar technique and confessional songwriting. Graced with a clear, true voice and a keen melodic sense, the 26-year-old seems poised for a long and exciting career. When You're Ready, produced by Ryan Hewitt (The Avett Brothers, The Lumineers) showcases her astonishing range and versatility and shows that she is more than simply an Americana artist.
Read More
Folk
Americana
Acoustic
Bluegrass
New Americana
Progressive Bluegrass