About this concert
This is a 21+ ages show.
Find a place to stay
Upcoming concerts from similar artists
Live Photos
View All Photos
What fans are saying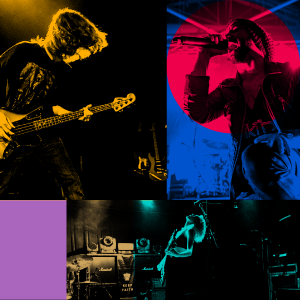 An absolutely dynamite performance from a virtuoso of Touareg blues guitar. I have seen Bombino in concert twice before but nothing beats this concert. 2 1/2 hours of pure energy and perfection. And after that, the whole band stayed so that the fans could get photos taken. This, despite the fact that it took them 3 days to get to Portugal from war torn Niger. Bravo, Bombino and bravo B'Leza for getting this act to perform here.
Lisbon, Portugal
@
B.Leza
Bandsintown Merch
Live Collage Sweatshirt
$45.00
Rainbow T-Shirt
$30.00
Circle Beanie
$20.00
Discover more artists to follow & sync your music
For centuries, the desert town of Agadez has served as a converging point for the great camel caravans driven by the Tuareg that link West Africa with North Africa and the Mediterranean. Born in 1980 at a nomadic camp near this dusty outpost, the young guitarist and songwriter Omara "Bombino" Moctar was raised during an era of armed struggles for Tuareg independence and violent suppression by government forces. Bombino's electrifying jams capture the spirit of resistance and rebellion while echoing with guitar riffs reminiscent of fellow Africans Tinariwen and Ali Farka Touré not to mention rock and blues icons such as Jimi Hendrix, John Lee Hooker and Jimmy Page.

http://www.nonesuch.com/artists/bombino
Read More
African Rock
Desert Rock
World Music