Alien Boy
2,362 Followers
• 17 Upcoming Shows
17 Upcoming Shows
Live Photos of Alien Boy
View All Photos
Bandsintown Merch
Circle Hat
$25.00
Circle Beanie
$20.00
Rainbow T-Shirt
$30.00
Live Collage Sweatshirt
$45.00
Fan Reviews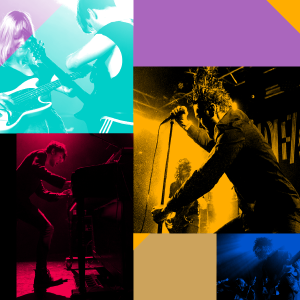 Great fun, loved the new songs
San Francisco, CA
@
Rickshaw Stop
Christopher
April 2nd 2022
Perfect
Nashville, TN
@
The End
Alien boy 🤘
Nashville, TN
@
The End
About Alien Boy
Alien Boy is a loud gay band from Portland, OR writing love songs for queers. It's dreams and queer feeling, and it's for you not them.


In a scene where abstruse lyrics and ironic detachment are all the rage, Alien Boy's high-stakes, loud pop is as refreshing as it is surprising. In the grand tradition of emo and pop-punk—and perhaps rock 'n roll in general—lead singer and songwriter Sonia Weber uses her songs to communicate subdued desires and secret grievances. Alien Boy's debut LP Sleeping Lessons is a collection of lullabies for the pop masochist; like all good, emotional music, Weber's songs are resonant because they're unmistakably human.


Alien Boy takes their name from a Wipers song, but elsewhere the group's PNW lineage is felt in a mordant grit gleaned from Team Dresch and early Heatmiser. It sets the tone for Weber to mix her deep-seated love of early 2000's generational touchstones with a Britpop frostiness to brilliant and totally unique results—from the tremolo dives and Stone Roses references on Ride-y opener "Somewhere Without Me", to the sun-kissed, sub-three-minute power pop bliss of "600 Days". Weber's melodies are so bright and effective it's easy to forget they come from a place of absolute emotional torment. (Mo Troper)


"Since 2015, Portland, Oregon's Alien Boy has been establishing itself as one of the most intriguing guitar rock bands in the American underground. Its sound could be roughly described as a mixture of pop-punk, post-punk and shoegaze. The jangle-y riffs and melt-y, fiery tones propelled by urgent rhythms could certainly be considered to be an amalgamation of all of those styles of music. But Sonia Weber's vocals, expressive, poignant, unafraid to go off of conventional and sanitized melodies anchors the songs in relatable human experiences which aren't ever perfect. But that willingness to embrace flaws is its own perfection by speaking to emotional truth and it's what makes Alien Boy more compelling than many bands that seem to write music where everything is ultimately okay. This band's music isn't about bravado, it's about being real and honest with oneself and others." Queen City Sounds and Art (2019)


"Alien Boy's debut LP, Sleeping Lessons, wastes no time letting you know what you're in for. Like the panicked swirls that introduce the Cure's Pornography or the dense rush that yanks listeners into My Bloody Valentine's Loveless, the plangent cry of overlapping guitars in the first minute of "Somewhere Without Me" erases uncertainty: There are heavy feelings here, and they will devastate." - Portland Mercury (2018)


"A lot of bands do the punk/shoegaze thing now, but not that many of them have a singer who's as much of a force as Sonia. Sleepy bedroom-recorded shoegaze singing this is not; Sonia belts like she's already ready to play huge rooms, and she does it without ever falling into radio-rock bombast." - Brooklyn Vegan (2018)


"George Harrison reportedly wrote most of his legendary triple LP, All Things Must Pass, while he was still in the Beatles—a story that typifies the secretly prolific sideperson mythos. While the comparison is extreme, Sonia Weber has been one of the most sought-after Portland musicians in the punk community for almost a decade (even serving a brief stint in Ben Barnett's emo vanity project Kind of Like Spitting in 2012). But she hadn't really stepped up to the mic prior to the formation of her new band, Alien Boy—a noisey, vaguely gothic take on early '00s pop-punk. The band's debut, Never Getting Over It, is so confidently realized and covers such a large sonic palette that it's hard to believe the band is so young." - Portland Mercury (2015)
Show More
Genres:
Punk, Post Punk, Emo, Shoegaze
Band Members:
Derek McNeil, Caleb Misclevitz, Sonia Weber, Mac Pogue
Hometown:
Portland, Tennessee
---
Live Photos of Alien Boy
View All Photos
Bandsintown Merch
Circle Hat
$25.00
Circle Beanie
$20.00
Rainbow T-Shirt
$30.00
Live Collage Sweatshirt
$45.00
Fan Reviews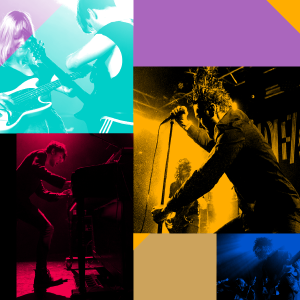 Great fun, loved the new songs
San Francisco, CA
@
Rickshaw Stop
Christopher
April 2nd 2022
Perfect
Nashville, TN
@
The End
Alien boy 🤘
Nashville, TN
@
The End
About Alien Boy
Alien Boy is a loud gay band from Portland, OR writing love songs for queers. It's dreams and queer feeling, and it's for you not them.


In a scene where abstruse lyrics and ironic detachment are all the rage, Alien Boy's high-stakes, loud pop is as refreshing as it is surprising. In the grand tradition of emo and pop-punk—and perhaps rock 'n roll in general—lead singer and songwriter Sonia Weber uses her songs to communicate subdued desires and secret grievances. Alien Boy's debut LP Sleeping Lessons is a collection of lullabies for the pop masochist; like all good, emotional music, Weber's songs are resonant because they're unmistakably human.


Alien Boy takes their name from a Wipers song, but elsewhere the group's PNW lineage is felt in a mordant grit gleaned from Team Dresch and early Heatmiser. It sets the tone for Weber to mix her deep-seated love of early 2000's generational touchstones with a Britpop frostiness to brilliant and totally unique results—from the tremolo dives and Stone Roses references on Ride-y opener "Somewhere Without Me", to the sun-kissed, sub-three-minute power pop bliss of "600 Days". Weber's melodies are so bright and effective it's easy to forget they come from a place of absolute emotional torment. (Mo Troper)


"Since 2015, Portland, Oregon's Alien Boy has been establishing itself as one of the most intriguing guitar rock bands in the American underground. Its sound could be roughly described as a mixture of pop-punk, post-punk and shoegaze. The jangle-y riffs and melt-y, fiery tones propelled by urgent rhythms could certainly be considered to be an amalgamation of all of those styles of music. But Sonia Weber's vocals, expressive, poignant, unafraid to go off of conventional and sanitized melodies anchors the songs in relatable human experiences which aren't ever perfect. But that willingness to embrace flaws is its own perfection by speaking to emotional truth and it's what makes Alien Boy more compelling than many bands that seem to write music where everything is ultimately okay. This band's music isn't about bravado, it's about being real and honest with oneself and others." Queen City Sounds and Art (2019)


"Alien Boy's debut LP, Sleeping Lessons, wastes no time letting you know what you're in for. Like the panicked swirls that introduce the Cure's Pornography or the dense rush that yanks listeners into My Bloody Valentine's Loveless, the plangent cry of overlapping guitars in the first minute of "Somewhere Without Me" erases uncertainty: There are heavy feelings here, and they will devastate." - Portland Mercury (2018)


"A lot of bands do the punk/shoegaze thing now, but not that many of them have a singer who's as much of a force as Sonia. Sleepy bedroom-recorded shoegaze singing this is not; Sonia belts like she's already ready to play huge rooms, and she does it without ever falling into radio-rock bombast." - Brooklyn Vegan (2018)


"George Harrison reportedly wrote most of his legendary triple LP, All Things Must Pass, while he was still in the Beatles—a story that typifies the secretly prolific sideperson mythos. While the comparison is extreme, Sonia Weber has been one of the most sought-after Portland musicians in the punk community for almost a decade (even serving a brief stint in Ben Barnett's emo vanity project Kind of Like Spitting in 2012). But she hadn't really stepped up to the mic prior to the formation of her new band, Alien Boy—a noisey, vaguely gothic take on early '00s pop-punk. The band's debut, Never Getting Over It, is so confidently realized and covers such a large sonic palette that it's hard to believe the band is so young." - Portland Mercury (2015)
Show More
Genres:
Punk, Post Punk, Emo, Shoegaze
Band Members:
Derek McNeil, Caleb Misclevitz, Sonia Weber, Mac Pogue
Hometown:
Portland, Tennessee
---
Get the full experience with the Bandsintown app.